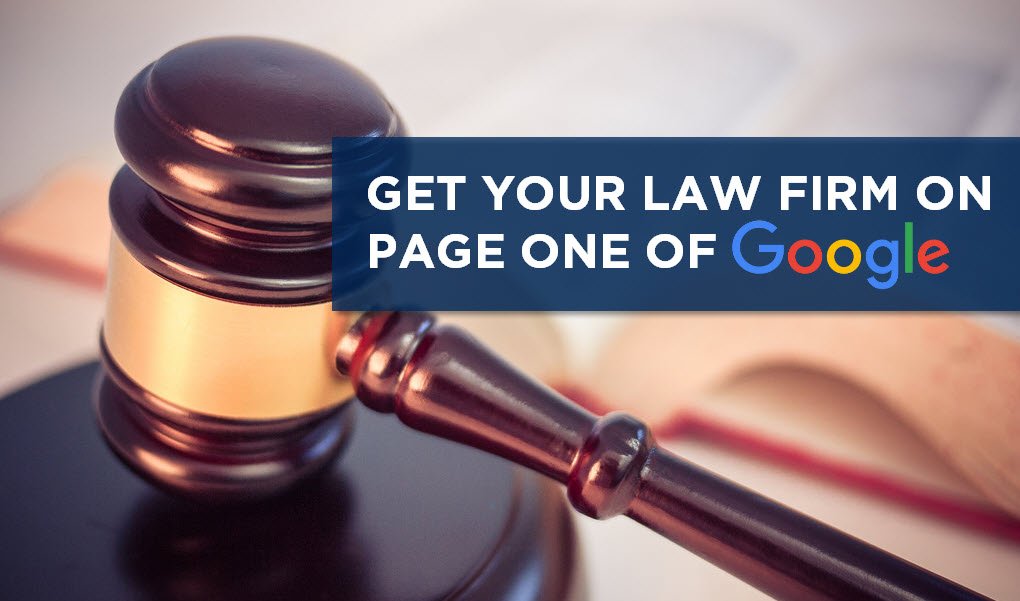 14 Oct

How To Get Your Law Firm On The First Page Of Google

There's a joke in the digital marketing community that aptly sums up why you're having trouble getting more legal clients:

Q: "Where do you go to hide a dead body?"

A: "The second page of Google."

Yes, if you want to attract more clients, your law firm needs to show up on the first page of Google—no ifs, ands, or buts.

The bad news: Getting your law firm on the first page of Google isn't easy.

The good news: If you follow our advice, you'll have a good chance of making it there.

Let's start where all Google rankings start—with your website. More likely than not, your law firm has one—but is it acting as a lead generator? In today's digital world, optimizing your online presence is critical. So, how can you make sure you're appearing in the search results and converting online searchers into prospective clients? That's where hiring a company that specializes in pay per click (PPC) and search engine optimization (SEO) can make a difference.
How to Get Your Law Firm on Google's First Page—Guaranteed
There are two key digital marketing tactics for lawyers that work extremely well to grow website traffic and increase leads: search engine optimization (SEO) with an emphasis in local SEO, and pay per click (PPC).
If you could only choose to focus on two areas, we recommend it be those two. By combining these into your online marketing strategy, you can expect both immediate and long-term results.
SEO takes a few months to kick in, and is therefore a long-term strategy. If you want to get your law firm on page one of Google in, say, 24 hours, PPC is your game. While SEO optimizes your website to show up higher in organic Google results, PPC guarantees that very top spot—the one dominated by ads.
I'll show you what I mean. Take a look at the image below:
PPC ads are at the top, followed by the local pack (more on that later), and then—finally—organic search results. You could technically be first in Google search, but your competitors could STILL be beating you to the top by using PPC ads.
Next, I'll dive into the nitty-gritty of PPC, SEO, and local SEO, then move onto other channels you could be using, like social media and videos.
PPC for Lawyers
Let's talk about those immediate results I mentioned above. One guaranteed way to get your law firm on the first page of Google within 24 hours is to invest in a paid search campaign.
What is this, you might ask? Think about the last time you searched for something on Google. Have you ever noticed how paid advertising will show up above the rest of the results? With PPC, you can ensure that your law firm is one of the first thing users come in contact with!
True or false: paid ads don't actually get a lot of clicks. Drum roll please… it's false! At SMS, we've encountered a number of law firms who think users don't click on paid ads, but that's incorrect. In reality, the top spot of PPC ads can see as high as a seven percent click-through rate.
If your law firm isn't investing in PPC, you may as well be giving those clicks to your competitors.
SEO for Law Firms
Once you have a paid campaign set up and your immediate leads rolling in, it's time to start thinking about dominating the rest of the search engine results. That's where SEO and local SEO come in. Think about it: if your firm shows up in the number one PPC position, the top of the local pack, AND the top of the organic listings, you increase the possibility of a user selecting your listing over the others. Now, I know what you're thinking: how can your website possibly bypass the businesses that are currently ranking highest for your legal services and service area?
To start, you need informative, quality content. That means you must put yourself in a potential client's shoes and provide them with the exact information they need to make an informed decision about the law services you offer.
Think about the questions a potential client may have while clicking around your site. What type of law does your firm practice? What areas do you serve? Has your firm won any awards? Your clients will be trusting you with their case. By making the information on your site as helpful as possible, you can begin building that trust right from the get-go while becoming an authority in your field and service area.
Once high-quality content has been built out on your website, Google will start to recognize you as an authority. However, SEO is more than just content creation. It's imperative that search engines like Google are able to easily crawl, understand, and index your website.
In other words, Google reads your website differently than a person would. It's vital that you have a team working to improve your site speed, create a search-engine friendly site navigation menu, and develop a well-structured XML sitemap. At SMS, we can make sure these technical elements are working together to make your website the best it can be and increase your organic rankings on Google and other search engines.
LOCAL SEO FOR LAWYERS
If you want your law firm first in Google, you'll need local SEO. Local SEO is used to get a specific law firm at the top of Google's local pack.It's different than normal SEO because of that emphasis on the local pack. It requires a little bit different of an approach than nation-wide SEO; one that's focused on name-address-phone number (NAP) citations. Your key component here is your Google My Business (GMB) page.
The information in the local pack is pulled from your Google My Business Account, which is why your GMB account needs to be claimed and optimized for local SEO.
Your Google My Business profile isn't the only one that needs to be optimized for that local pack. One part of attorney local SEO is making sure relevant online directories have you listed, and have the correct information listed. That means if you want your law firm to show up on Google's first page, your information needs to be consistent across every single directory and social platform. You can read more about local SEO for lawyers here >>
Improve Your Law Firm's First Page Rankings
Video. Did you know that a video is 60 percent more likely to get ranked in a search engine than a landing page on the same topic? That's because Google is constantly looking for ways to improve user experience, making video an important part of the search results. By adding a professional video to your website, you can make a huge difference in where your website shows up in the search results.
Social Media. Many companies don't think that social media will be beneficial to their law firm. However, social media is a low cost way to maintain top-of-mind awareness with your customers. If you are interested in social media but don't think you'll have time to properly maintain your accounts, SMS is here to help.
Top the Search Engine Results with SEO & PPC for Law Firms
At SMS, we take pride in offering SEO and PPC for law firms. As a Premier Google Partner, our PPC team receives advanced training opportunities and support from Google, so you can rest assured you're getting unparalleled services. Our SEO specialists have experience helping law firms get more qualified traffic. But don't take our word for it—check out this case study to see how incredible your SEO results could be!
If you're ready for your law firm to dominate the search engine results and increase your leads and sales, get in touch with SMS learn more about our SEO and PPC services.